Our footage is being licensed through iStockphoto or Gettyimages. Clients that have used our stock footage include: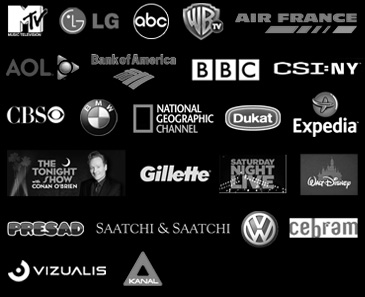 Testimonials
James Benet
"Buyers should not think twice about buying your content! Your work is superb and all the hard work of you, your wife and your team are worth it. It shows us the way to creating a better stock image. But yours transcends into art, which is an aspiration many of us try but can't reach. Wish you continued success."
Mirko Pernjakovic
"Very inspirational portfolio! Lot of effort and hard work is embossed here. Slovenia, great country! Big hug from Belgrade, Serbia from me and my wife Jelena! She loves your clips and when she propose to shoot some subject I have to check your portfolio to see if it's there (clip) cause she likes to "snatch" an idea or two ;) Keep on! PS Svaka cast!!!"

M. B.
"One great family video team Teja and Simon - top video iStockphoto producers - amazing number of videos of all kinds in their library. Lot of energy and effort put in their work. Check portfolio. ;) Congrats!"

Robert Matteson
"I've looked through your complete portfolio and find your work absolutely beautiful. The winter scenes, rafting, wheat fields, young women, night shots, are all outstanding."
"the most prolific videographer on the planet"


Ben
"Your videos were so good that I found myself watching them twice."